It's a good thing when there is so much fine work on display that awards given to a few seem unfair because there are so many worthy contenders. It's also a good thing when an exhibit is packed to overflowing, when there is so much excellent wearable art deserving and demanding to be seen within the ordinary limits of space and time. When creativity is bursting at the seams, why try to hold it back?
I for one am grateful for the pleasure of experiencing the 7th International Juried Exhibition of Wearable Expressions at the Palos Verdes Art Center. Thanks must go to Gabrielle, for curating such an exuberant show and shepherding it to fruition.
Beadwork enthusiasts will not be disappointed by the fabulous and numerous works incorporating beads and beadwork. The art to wear was divided into three categories: fiber art, accessories and jewelry. Beading and all manner of repurposed and unusual stuff "masquerading" as beads can be found throughout, but most of the jewelry was in cases in the smaller rooms to the back of the art center. But be sure to look carefully at all the displays, because spectacular necklaces are often displayed on equally amazing garments. Personally I would prefer my piece not be competing for attention on top of someone else's, but maybe the artists involved were okay with that.
I was drawn to the floral necklaces of Zoya Gutina, particularly Art Nouveau Restored for its lovely balance of color, texture and pattern. Works by the well known bead embroiderers Betty Stephan and Sherry Serafini were on display (Stephan's "Carousel of Time" received an honorable mention), as were the bead sculptures of Teresa Sullivan. At least half a dozen more bead artists I was less familiar with were included in this show.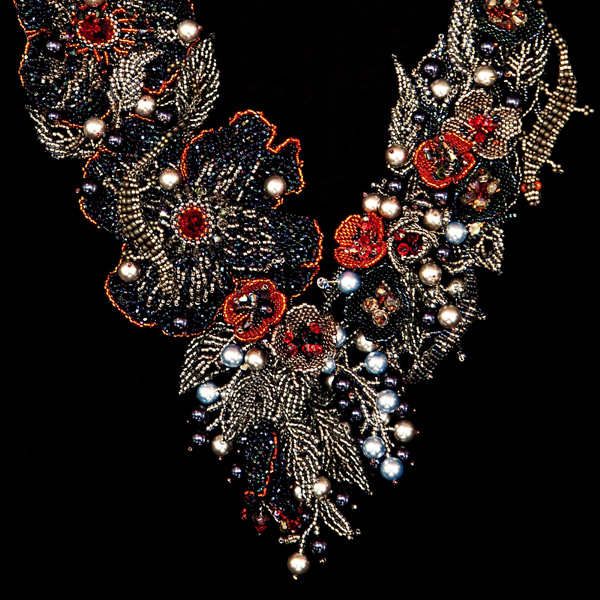 The showstopping Caribou Women in Her Flowers Ceremonial Robe, and associated beadwork accessories by Teresa Burrows are not to be missed. And if you're a fan of repurposed and unusual materials, there are many Project Runway-worth examples, such as Grace DuVal's The Overpass (rubber innertubing and valves) and Paul Schurch and Wesly Johnson's curvy Maplewood Gown 3.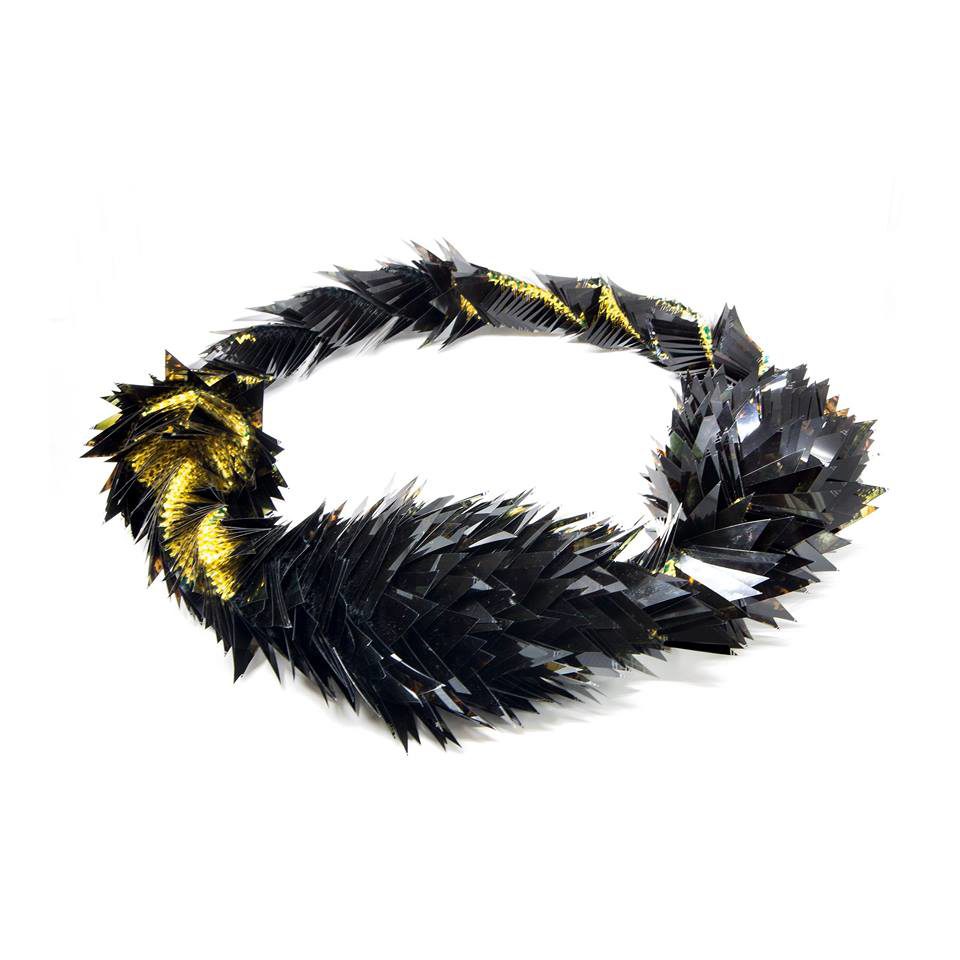 Wearable Expressions continues through April 16, 2017 at the Palos Verdes Art Center. The $20 exhibition catalog generously includes color photos of all 350-plus entries.