What do you think of the name for this design?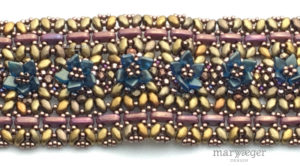 I started out calling this design "Minnie's Duo Cuff," but the Bead&Button decided to help me out by listing the class as "Minnie Duos Cuff." I was trying to make a play on words–Minnie being a woman's name, and that there were lots of two's in the pattern, as well as MiniDuos. But then it all sort of flattened out/got confusing! In my mind's eye I was envisioning the scene in Pride and Prejudicewhere Mr. Darcy dances with Elizabeth Bennett. Mini Duet? Minnie's MiniDuo Duet? Confusing?
Fortunately for you, the actual diagrams and instructions are clear and precise. You, graceful beader, will float through this pattern with no slipups whatsoever!